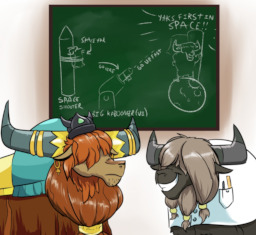 Source
Yaks are one of the most durable sapient species on the planet, a fact in which they take pride.  They have colonized mountains towering beyond the reach of even dragons' wings. They smash the toughest objects the mountains have to offer for fun.  They don't settle for second place.
Naturally, they didn't take it lightly when they heard of Equestria's plans to explore beyond the sky.
---
Rocket scientists beware: Heresy dwells within.
My thanks to Bugsydor and Akouma for some idea-bouncing and proofreading. Similarly, big thanks to Rocket Lawn Chair for making an awesome cover. Turns out, there's not a lot out there that includes yaks and rocket science.
My entry for FanOfMostEverything's Imposing Sovereigns II contest under The New: Prince Rutherford.
Chapters (5)