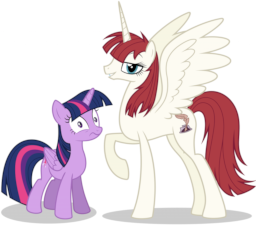 Twilight Sparkle has been serving her country as the Princess of Friendship for over two years, and she thinks that it's finally time for her to take the next step in her royal career: she wants a fancy enchanted mane, just like Celestia and Luna. Luckily for her, the process behind it is pretty simple—all she has to do is go petition the legendary Author of All Beings. You know, the one that lives near the supermarket. Surely she'll be willing to grant Twilight her new magical princess mane!
Unfortunately for her, there's one catch: the Author of All Beings is a complete troll.
---
Thanks to ZuTheSkunk for the Faust vector. Thanks to Thornwing, Quill Scratch, Frog Myre, Manaphy, Oroboro, and Foehn for prereading.
Chapters (1)