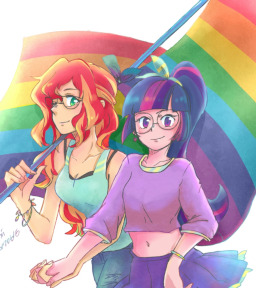 Source
Twilight shows Sunset a meme. Things get complicated.
A Socratic debate between two lesbians about queer representation, identity, and anime schoolgirls.
---
(This fic features pictures as important plot points. If you have a setup that doesn't support pictures, read the second chapter, which is the same, but with image descriptions.)
Loosely inspired by a conversation with Posh.
Written for June's Pride and Positivity campaign.
Chapters (2)