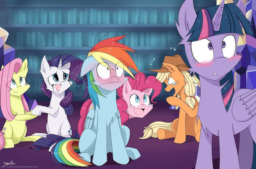 Source
Twilight improves upon the portal mirror to allow her and her friends to see alternate universes. They quickly learn things that may strain their current relationship with Rainbow Dash.
Awesome art by AnimeStrife009 on DeviantArt!
Chinese translation was done by Green Onion Nutritious and can be found here: http://tieba.baidu.com/p/3972797172
Russian translation was done by GrandCat and can be found here: https://ponyfiction.org/story/13869/
Thanks, you guys are amazing!
Made the featured box on July 14/15! Thanks everyone!
Chapters (1)