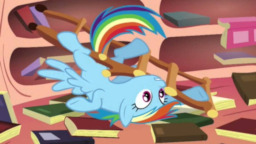 Experiment 247: Day 1
Subject of study: Why does Rainbow Dash keep crashing into my library?
Hypothesis A: She thinks it's fun. Disproved because Rainbow prefers staying in the air and hates helping me clean up.
Hypothesis B: She's clumsy Rainbow is extremely graceful in the air
Hypothesis C: None . . .Further study needed.
For the Abyss' competition.
Chapters (1)