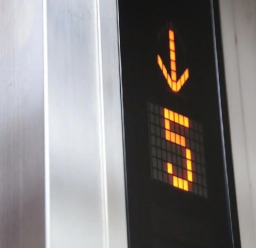 Source
"Sub-Level Five doesn't exist." That's the official statement of the Stairway company.
Washing out from the Night Guard program is usually a death sentence to any similar career. When Astral Sentinel was asked if he was interested in a security job, the Thestral obviously jumped at the chance.
There was just one oddity about the job. Well, there were quite a few, but mainly just one.
He just never, ever could acknowledge the existence of Sub-Level Five.
When a complete lock-down traps the Thestral inside the odd facility, he has to break that one rule. As the security systems begin to eradicate all life inside the building, Astral has to venture down to the elevators that officially don't exist, to a floor nopony alive will speak of.
He soon finds out that some things are best left buried beneath rock and stone.
*Warning. Hitchhikers may be escaped convicts.
---
"This story is simultaneously horrifying and adorable." -Witchery
Takes place far after Season 9. Although, it could take place at any time...(or in the Radverse, as some people call it.) This thing took on a mind of its own.
Seriously.
Read on if you want to join Astral for the ride.
I hope you brought your crowbar.
---
In later chapters, loose spoilers for Timeless, Sunspots, and Cure for a Toxin
Warnings for creepy atmosphere, gore, violence, and brief mentions of sexual content/assault (nothing explicit, only implied.)
Despite this being a horror story with unpleasant elements, it's not grimdark or a depressing tale. Lots more ups and downs, but overall it's a positive read of good vs evil, love and fluff; those are the types stories I write, after all. I just want to let everyone know what they're getting into, and don't want any readers blindsided due to some of the content.
(Not a romance involving a 'herd')
Chapters (77)