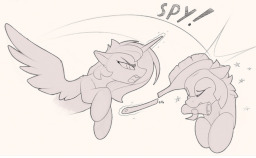 Source
Everyone wears a mask. For the rulers of Equestria, that mask must be impeccable for their subjects. Only around their guards can the two Princesses relax ever so slightly, occasionally showing that they are just as fallible as any other creature. For one Princess, the burdens of her own mind begin to make the mask crack. However, when Private Steel Heart notices that it is, in fact, the pony underneath the mask that is beginning to splinter, he offers to help.
He had no idea such help would first involve getting attacked with a large brush.
Warning: Involves slow-burn romances, lots of feelings, comforting moments, adorable affectionate gestures, lethal amounts of fluff, feel-good auras, and a deadly combing implement.
Takes place around Season 8-9 (ish)
Cover art used with permission by the talented Yakovlev-Vad, seriously, check out his art. He's fantastic!
https://www.deviantart.com/yakovlev-vad/art/Oops-Sketch-743917791
*Edit. Featured on the first day? WHAT IS HAPPENING?
Chapters (8)