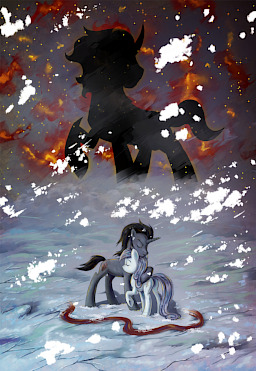 Source
Sombra was not always the heartless ruler that ruled the Crystal empire with an iron hoof. He once had friends, a home, a lover...
But his thirst for knowledge and power led him down a dangerous road.
By chance or the powers that be, Sombra is deemed worthy of a second chance to correct a thousand year old mistake. History ignores intentions however, only recording actions. Can Sombra find a way to bring peace to his heart and those he cares for, or will the darkness from his past consume him?
Image, story idea and OC used with permission.
Check out her DA Here!
Inspired by StasySolitude's animation. (Watch to provide a bit of clarity/backstory!)
Click Here to watch!
Art by StasySolitude for this fic;
Chapter 8 Picture:
Click here!
Chapters (21)