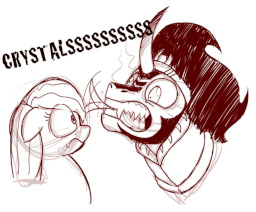 Source
Princess Cadance has some problems in her sovereignty over the Crystal Empire. For one thing, she isn't even a crystal pony. Another thing is that the crystal ponies would much rather have the former King Sombra rule over them... despite previously reigning with an iron hoof and treating the populace like whipping mules. To prevent civil war, Cadance has a brilliant idea to ensure her bid for the throne while pleasing the people: have an election.
And it's any wonder ponies don't have democracy.
---
Collab with the undeniably blue and of a shifty variety Blueshift. Go on and check his stuff out!
Also, big thanks to my editors Aragon, Themaskedferret, and prereader Skeeter The Lurker.
Chapters (1)