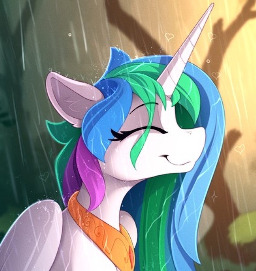 Source
This story is a sequel to Timeless
---
(This story is a direct sequel and picks up right after Timeless ends. If you haven't read the previous story, ye be warned for confusion and spoilers!)
The sun is eternal, distant, powerful, timeless, and out of reach of any mortal creature. Like the entity she controls, Celestia has curated such a view of herself over a thousand years. Having run the nation for over a millennium, the Solar Princess is, to many, a revered and nigh-unapproachable figure.
However, when you wear a mask for too long, it is said, you can forget who you are underneath.
While attempting to maintain a semblance of government during a devastating plague-like outbreak, Celestia herself falls ill, and she is all too thankful when an expert on the disease arrives to help. What the Alicorn didn't expect to find, however, was how much she needed a friend more than any curative potion. Yet something about this doctor seems oddly unnatural, and familiar.
As the continued efforts from a dangerous foe strive to destroy everything the Solar Princess holds dear, friendships may prove to be more valuable than any blade.
Takes place during/after Season 9.
Spoilers for Timeless, Prison of Ice with Silver Keys
Art used with permission, created by the talented Yakovlev-Vad *Click here for Link*
Chapters (3)