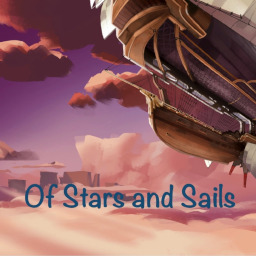 Source
Captain Galen and his for-hire crew were well known for taking odd and dangerous jobs. Be it mapping dangerous areas to taking emergency distress calls, the crew had seen it all. After a solid two weeks of back to back work, the crew looked forward to dropping off a captured criminal and getting some rest. An urgent request interrupts their plans however, and they are tasked with kidnapping a Princess to keep her out of murderous claws.
But all is not what it seems, and before the dust settles relationships will be forged and tested as the foundations of kingdoms are shaken to their roots. What started as a odd yet straightforward two-week job now has no end in sight, and there are no safe harbors from the storms of war that loom on the horizon.
Highly recommended reading for continuity hints and therefore spoilers for (Gallus and Silverstream Adventure): Stream of Silver, Heart of Gold & Prison of Ice with Silver Keys
(In the description of the first chapter, the key points will be summarized for those who don't wish to read the other stories)
Other Spoilers: Seasons 1-8, MLP Movie, the comic 'The Stormy Road To Canterlot' (And others), and chapter book 'Beyond Equestria: Fluttershy Balances the Scales
Tag Info: Violence/Death/Gore tags for plenty of fight scenes both large and small.
Chapters (19)