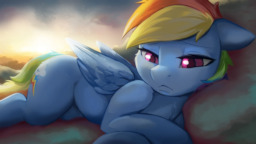 Source
Another one of Pinkie's parties is winding down, and Dash sits alone in the corner. She feels another knot tightening in her chest, clenching harder by the second. She just can't seem to make it go away, not alone.
---
Expanded from an entry into one of the Quills and Sofa Speedwriting group's contests, with the prompt "Spurred to Action"
Thanks to Zontan and Petrichord for some proofreading and feedback.
Chapters (1)