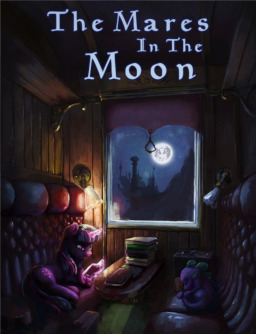 Source
One thousand years ago, the Ancient Ones arrived. To each of their progeny they came seeking submission, and came to rule through peace or through blood. The Princess asked two sisters to cede their rule over Equestria. When they refused, she banished them to the moon, their forlorn visages to ever look down upon the denizens and nation they lost. 
With the one thousandth Summer Solstice Celebration approaching, the Royal Scholar Twilight Sparkle discovers a prophecy that The Mares in the Moon shall escape with the aid of the Stars, and return to Equestria with fire and fury. However, she is ordered by The Princess to disregard such a false prediction and assist with preparations in the small township of Ponyville. 
A madmare, a farmer, a braggart, a socialite and a wallflower may be her only hope of saving Equestria.
---
A Lovecraft-Lite AU which is inspired by the Lovecraft Mythos, but does not require having read Lovecraft stories in the past to understand.
Cover art commissioned from Nemo2D.
Thanks so far to Shaslan and Zontan with some proofreading help.
Chapters (4)