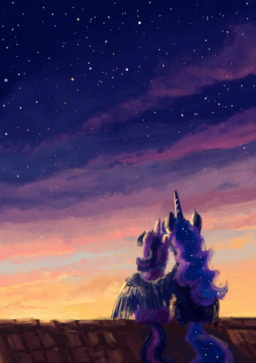 Source
Luna has requested a private meeting with Princess Twilight Sparkle under specific circumstances. In the dead of a dark, cloudy night, they venture into the tunnels beneath Canterlot's castle.
---
Expanded from my second-place entry into the Quills and Sofas Speedwriting group Panic! Fiction "Princess" Contest. The contest simply required that we use any canon Princess.
I know the [Adventure] tag may seem a little odd after first reading, but it was probably the closest I could get to how it all turned out.
Chapters (1)