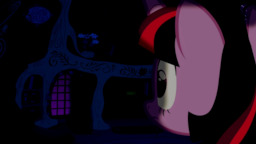 "Do you believe in ghosts?"
The question from Rarity is sudden, and while Twilight may not believe in them, she's curious enough to listen. It must just be a story, after all.
---
Edited from an entry into the Quills and Sofas Speedwriting contest "Seer's Spookfest #2". We were given no prompt, other than writing a horror story.
Special thanks to my friend Seer for hosting the contest, as well as all of those that gave feedback during it.
Chapters (1)