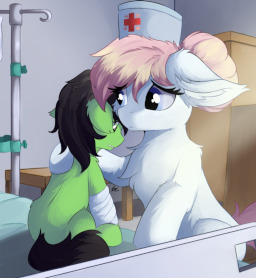 Source
When I agreed to be sent to Equestria I didn't read the fine print. I'm the wrong age, the wrong gender, and lost in the wilderness.
Chinese Translation: https://fimtale.com/t/9306
Can't vouch for its accuracy since I don't speak Chinese but it's being translated by a human who goes by DreamsSetFree.
Hi to all my Chinese readers!
中国的读者们,你们好!
New Cover art commissioned from Lunar Froxy.
Chapters (47)