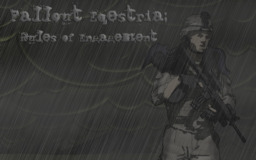 Once upon a time, on the not-so-magical planet Earth, there was a US Marine who signed up to defend his country. He was assigned to a fire team, the fire team assigned to a squad and the squad assigned to a platoon. Together they defended the area surrounding a Forward Operating Base in Afghanistan from insurgents. If only it were that simple.
When lone Marine is transported to Equestria he finds a post-apocalyptic wasteland. With no orders, no resupply and seemingly no hope of return, he sets out to find what brought him here, and why.
Strong Language Warning: He swears like a Marine.
Disclaimer: I'm not a Marine
What do readers have to say about this story?
"[T]his has to be the dumbest sounding plot I've ever heard of. But my god do you take that and fuck it in its ass ... Its just so real and witty and genuine that the whole premise actually works!" ComprehensiveBrony
"Yes, it's human-in-Equestria, but it's good. ... the action scenes had me sitting on the edge of my seat" Tebee
Cover by me, background stock by DarkDragon774
Chapters (7)