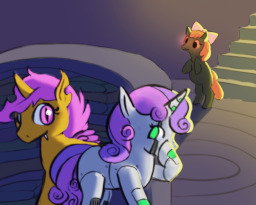 This story is a sequel to Undead Robot Bug Crusaders
---
Apple Bloom is an undead ghoul, but that's OK. She's finally come to terms with her condition, and is determined to rise above her curse.
Sweetie Belle is a robot, but that's OK. With manual in hoof, she's prepared to learn everything she can about herself, and whatever the future holds.
Scootaloo is a changeling, but that's OK. Changelings are citizens now, and she's ready to do her part to show the world changelings can be friendly too.
Together, the three of them are getting by, one day at a time. They may never get their cutie marks, but that's not going to stop them from having fun, finding their talents, and maybe even going a week without causing massive amounts of property damage. Maybe.
Meanwhile, Babs Seed is still blissfully unaware of the unusual destiny that awaits her, Diamond Tiara is slowly finding her place in the world, and Ponyville is still the weirdest town in Equestria. But then again, what else is new?
Edited by Bahamuttone
Cover Art by someone close to me IRL who probably doesn't want anyone to know she made pony art.
Chapters (23)