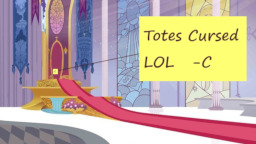 The coordination is over, and Twilight is now Equestria's sole ruler.
Too bad Celestia didn't mention a few minor problems that come with ruling Equestria, such as where the royal closet is located, certain laws that are incredibly stupid but must never be rescinded, and the curse that comes with the title of Ruler of Equestria.
Yeah... that last one's going to come back and bite someone.
Chapters (1)