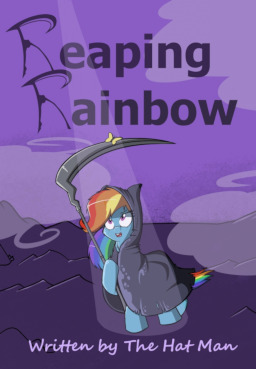 Source
Hallo! Sorry I'm late. But then, it seems... so are you, Rainbow Dash.
And so the late Rainbow Dash comes face to face with Death himself! And he's... surprisingly cordial, actually.
But when Rainbow ends up in his debt, there's only one way to get back to the life she knew: take up the role of the Grim Reaper herself while Death takes a little holiday. Will Dashie be able to stay quick among the dead? Will she be the most awesome reaper ever... or will Death have to cut his vacation - and Rainbow's life - tragically short?
(Apologies and honors to the late Sir Terry Pratchett.)
Editors: Reese, GenerousGhibli, E3gner
Illustrations: Greenfinger
Chapters (7)