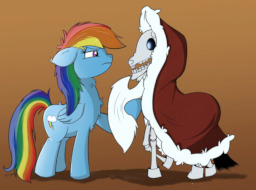 This story is a sequel to Reaping Rainbow
---
Have you been naughty... or nice? Ho ho ho.
Rainbow Dash is flying home for Hearth's Warming break when she has a disastrous crash with Santa Hooves himself. Now, to save the very spirit of Hearth's Warming from fading out forever - and perhaps get herself off the permanent naughty list - she'll have to take up the reigns of the magical reindeer's sleigh to save the holiday!
Of course, her old friend Death is there to lend a very skeletal hoof by trading his robes for a red suit and his scythe for a peppermint stick to take up the role of Santa Hooves... Let's just hope he doesn't mix up his lists, or a lot of ponies will be Late for the holidays.
Chapters (2)