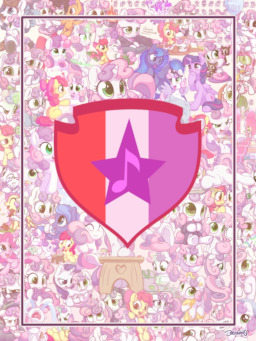 Source
The League of Sweetie Belles was founded by a handful of Sweeties who decided they liked hanging out with each other. What started as a simple club for like-minded white unicorn mares turned into a complex organization with a lot of responsibility.
One particular team of Sweetie Belle explorers have taken it upon themselves to visit the universes near to their home worlds, delving into the lands of ponyfics and beyond.
(Part of the Songs of the Spheres continuity, but you don't have to read that to understand this. Updates Sporadically. Want to suggest a fic? Do it here. As with all SotS stories, there's a Discord server)
Warnings are there since certain fics will require them when they are included. You won't get sex, death, or gore everywhere. You are likely to get violence and some profanity in many chapters.
All featured fics can be found on this post.
-GM, master of Chronicles.
Chapters (25)