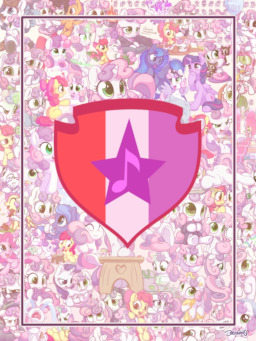 Source
The League of Sweetie Belles was founded by a handful of Sweeties who decided they liked hanging out with each other. What started as a simple club for like-minded white unicorn mares turned into a complex organization with a lot of responsibility. One particular team of Sweetie Belle explorers have taken it upon themselves to explore the multiverse, delving into the lands of ponyfics and beyond.
(If you're not reading from the beginning and just want to look into one chapter relating to a particular story, the SUPPLEMENTAL MATERIAL: The Sweetie Personnel Files blog is your friend. Refer to it whenever you feel you lack context. But don't read the entire thing; use it to look up names.)
(Part of the Songs of the Spheres continuity, but you don't have to read that to understand this. This fic can never never be complete due to its episodic and open nature, and it may never update again—but who knows? As with all SotS stories, there's a Discord server)
Warnings are there since certain fics will require them when they are included. You won't get sex, death, or gore everywhere. You are likely to get violence and some profanity in many chapters.
-GM, master of Chronicles.
Chapters (65)