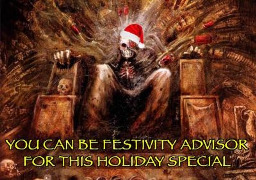 Source
It is a known fact that different universes have different time constants; that is, while one universe may experience a second, a different one might experience two. This causes a very large temporal drift between universes where, more often than not, the season doesn't even match up, let alone the day. However, in this holiday season, everyone's holidays are lining up perfectly. The Emperor of Mankind wants in on this.
Join the ponies, humans, daemons, and other creatures for a look at many different expressions of the holiday spirit.
Part of the Songs of the Spheres continuity - a Christmas/Holiday special! Takes place after chapter 073 - The Hunger for Games.
-GM, master of Nirvana.
Chapters (1)