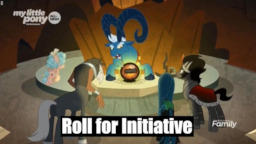 "Hey, Grogar sir, don't you think we should try to get everyone to work together? Perhaps by playing a game or something?"
"Like what?"
"Golly, there has to be something you like to do! You could try to introduce the rest of us to it!"
And then Grogar remembered a game he used to play in his youth...
Join us as we watch Grogar's League of Villainous Evildoers attempt a tabletop RPG.
Keywii_Cookies55 is responsible for this because he created the cover image.
Chapters (1)