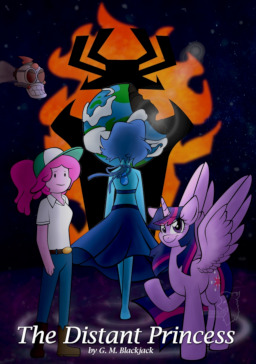 The world saw the purple comet, and very few knew what it was. Twilight Sparkle was one of those who had no idea, so she decided she was going on a trip to get some answers. With her friends at her side, she sets her sights on the Candy Kingdom, believing she is prepared for anything.
But evil brews in the Candy Kingdom, and she is far from the only individual to have seen the comet. Ancient secrets are about to be unearthed and mysteries from very distant lands will rear their ugly heads. Meanwhile, a ragtag group of misfits is going to go on an adventure. Because what else do you do in a world like this?
Seven separate cartoon worlds have been fused together into one to create this story.
Theme song: https://youtu.be/whjdk1IHEhs
World Map: https://cdn.discordapp.com/attachments/538856462244642816/700764105996501163/MAP4GMhuh_1.png
Contains the following franchises: My Little Pony, Adventure Time, Steven Universe, Samurai Jack, Wander Over Yonder, Infinity Train, Gravity Falls.
Cover by Hoodwinked MCShelster
Has nothing to do with Songs of the Spheres.
-GM, master of Synthesis
Chapters (42)