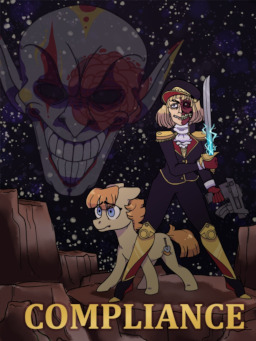 Source
Yamira Kalov. Lady Commissar of the Astra Militarum. The Flayed Face of the Guard. Loyal servant of the Imperium of Man. All these titles and more.
Diplomat to Xenos is not one of them.
After a grievous devastation brought on by Yamira's carelessness, she has been forcibly reassigned to act as a liason to new allies who have reached out to the Imperium from beyond the universal veil: the Merodi Universalis. Naturally, a woman raised to hate all that are not human nor worship the God-Emperor of Mankind and the Golden Throne he sits upon will not take well to this. Surrounded by faces of allies and enemies alike, Yamira must stake her claim in the multiversal mixing pot that she finds herself in, whether it be by word of peace or by sword of slaughter.
---
A side story to the incredibly expansive and extremely well-written mega-crossover: Songs of the Spheres, by the talented madman, GMBlackjack. Please read his work to better understand this story, and support his works.
Cover art done by @carna.age (Instagram)/hyppy#8910 (Discord)
Chapters (11)