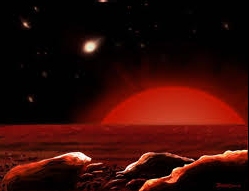 Millions of years in the future, Celestia and Luna watch over a dying world. Its surface is a cracked, barren wasteland, baked by a dying sun. The ocean is a caustic soup, choked with salt. Few creatures can survive this hellish future, and even their days are limited.
Yet, despite the desolation, there is some good news: Celestia's birthday is coming up, and Luna has a surprise for her...
Special thanks to Themaskedferret, BronyWriter, and Georg for proofreading and editing. Seriously, you guys rock!
Chapters (1)