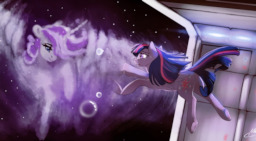 Twilight Sparkle's long journey had been aimless. Formless. A search for something she could not, or would not name. Her living, singing ship had plied the void for so long with no destination in sight.
But everything is different now. This is a mission of mercy.
---
Thank you to TheMaskedFerret for her help, and for being a friend when I needed one. And for ScarletWeather, who also read this and is also very good.
Cover Art from the animated "Echoes of the Past". Watch.
Chapters (1)