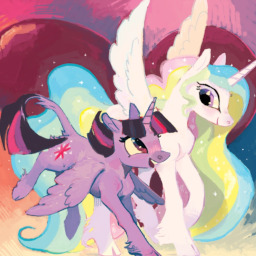 Source
Being an alicorn is wonderful... except when it isn't. There are plenty of things that put a damper on limitless vistas of possibility afforded by such a long life: Court, mortal needs and expectations, the occasional decade of ennui.
And the dreams, of course. Agelessness comes with its own special kind of dreaming. Celestia finds that her own "Inner Court" is a bit too literal, and it--and she--are troubled at the prospect of a near-immortal Twilight Sparkle.
If only she could articulate exactly why that was.
art by spectralunicorn
---
Part of the Monophysite Quartet, which also includes Celestia Isn't Real, Have You Considered My Servant, Twilight?, and The Esoteric Rites of Darkness. All four stories have a common origin point in an old story idea I called "Monophysite" and touch on who or what Celestia really is in some way. They are otherwise unrelated.
Chapters (16)