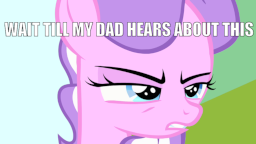 Many have opposed Celestia and all of them have fallen, one way or another. Some she has slain. Others she redeemed. Her servants and friends have done great deeds in her name and her fame has spread throughout all of creation. She is the Sun in all of its glory.
And yet she finds that she cannot get a single child to believe she is even real.
---
Part of the Monophysite Quartet.
Ageless, Or Celestia Plays Dice With the Universe, Have You Considered My Servant, Twilight?, and The Esoteric Rites of Darkness (NSFW), all coming from a single story idea called "Monophysite" and exploring some perception/idea/theory about who or what Celestia is and how that effects her friends and loved ones.
Chapters (1)