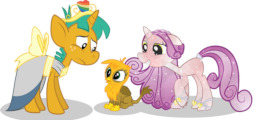 Source
This story is a sequel to Snails 1/2: Vol 1 Becoming Popular
---
This is a precursor to the story Snails 1/2: The art of the Dress
There are some that would view Escargot's life as perfect. There are some that think she's the luckiest pony alive. She has looks, she has status, she has the attention of the princesses. What more could a pony want. There are some that would give anything for what she has. Snails would give it all up to go back to being a normal colt and have the nightmare end.
Snails 1/2 a Perfect Stallion follows Snails and his alter ego Escargot, on a trip to the frozen north. Through danger, adventure, and through bad marriage proposals. The Ranma-esc style story continues.
Will Snails ever become the Perfect Stallion?
With artwork by Alkarasu and edited by Swyrl, this is a story made as a pure slice of life comedy in the style of anime.
Chapters (32)