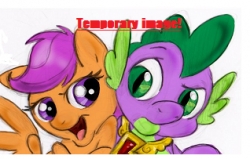 Spike, Snips and Snails are hanging out with the CMC's on the farm. As Spike leaves to go home he takes a shortcut through the back 40 of Sweet Apple Acres he finds Scootaloo alone in the CMC tree house feeling miserable. The story focuses on a tale of two different types of orphan and how they find solace in each other.
That's right it's Scoots x Spike. If people complain that it's not their version of fanon or canon, then let's say it takes place on Equestria-789 in the multiverse.
The fics's pic will definitely change as make my own picture for the story.
Oh and special thanks goes to my good friend WinterTwister for helping me write this fic.
Chapters (6)