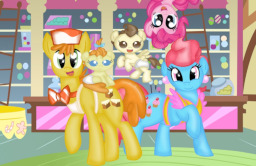 Of course Cup Cake has heard the rumors surrounding her foals, at first she paid it no mind, but as days turned into months, the blue baker has finally had enough and snaps like a rubber band.
See what one mare will do to dispel the naysayers.
Inspired by The Descendant's Mr. and Mrs. Cake ship fic "A Sweet Taste of Cake" and the odd behavior of a friend of mine who wallpapers his bedroom with his STD results.
Chapters (1)