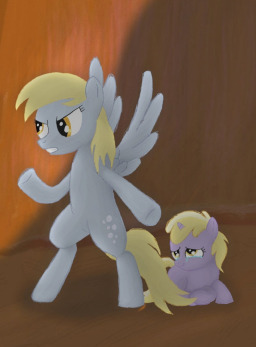 Part of the Five Score universe, by TwistedSpectrum, blending with Dust on the wind by Sparky Brony
Arch 1. Ben Smills worked hard to get where he is in life. He has a stable job, a wonderful girlfriend and a nice home to boot. It wasn't easy, having acquired a brain injury when he was seven and losing almost all his eyesight in his right-eye.
However, that all changed when he woke up to find a group of six bubbles on his flank and turned into a pony from a kid's television show.
Arch 2. When the portal closed, Derpy did not go through. She still needs to find Dinky and, with the help of those she met along her jounrey to the farm, she'll set out and find her daughter.
However, she hadn't really needed to look far, had she only done so sooner.
Tom Wills was Ben's best friend since they were little and Ben had always been protective of him. Tom was finally about to start uni two weeks after people had started turning into ponies.
His plans for uni are altered, however, when his hair suddenly turns bright blonde.
Not long after, other things start happening. He grows a tail, his ears move to the top of his head and become pony ears. He's turning into a pony and, if the fur colour of his ears is anything to go by, he's turning into Dinky Doo.
Will mother and daughter find each other, or will they're paths never cross?
Meant to also be a Slice of Life, but those tags don't like being together
Big thanks to my pre-readers kitsy-chan, exsnaggerwes and Phenrys.
Another big thanks to Sparky Brony for letting me write my fic to coinside with Dust on the wind.
And finally, a huge thanks to TwistedSpectrum for creating the original Five Score story in the first place.
Cover art from HERE
Apparently got into Popular Stories on 14/3/2016

did not expect that
Chapters (14)