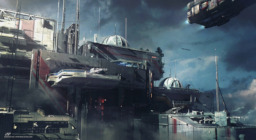 Notice: This is a Stellaris Invicta/MLP: FiM crossover. For more information on Stellaris Invicta by the Templin Institute, visit https://www.youtube.com/playlist?list=PL4YabFfWSaelXgXfV6T2ISJ5UN7Nci3qA. Its lore will be essential in understanding a considerable part of this story even though not all of it will be canonical.
After the destruction of the Tyrum homeworld, galactic powers began to turn against the GTU in disgust of its violation of the Homestead Treaty. When embassies were shut down and the Star Concorde began to close trade routes with the GTU in an effort to starve it out, the Union was forced to take drastic measures to ensure its survival.
Follow Admiral Johnson as he and his crew aboard the U.S.S. Archer as they search for the solution to the GTU's intergalactic relations and uncover more than they bargained for. Will the GTU follow a diplomatic or warfaring path? How will human and ponykind see each other? And, most importantly, what is the true history of the universe?
Chapters (9)