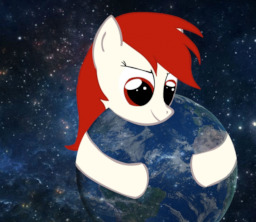 Humans currently poses an entire intergalactic empire, the aid of their brilliant technologies, and the fundamentals of dark energy have allowed them to succeed to a type three civilisation.
A human named Jack decides to buy a planet called "Harmony" on the intergalactic market. This planet holds residence to dozens of sapient species who all are primitive lifeforms.
He decides to transform into one of the native species, with his intention to cause as much havoc/chaos as possible. At the time of his arrival, most of the world hadn't seen conflict for well over 1000 years. He plans to change this, by encouraging new ideologies, starting a technological black powder arms race, and ultimately causing wars.
He may look evil to the natives, though according to the intergalactic government, he is implementing nothing illegal. His planet means his rules.
May or may not include Communists
This story is set in Early Season Two, a few episodes after "Return of Harmony". This is an alternate universe and thus Equestrian girls don't exist, humans are basically just a myth.
Prereader: crimson velvet
Constructive criticism is welcome.
This story is cancelled. I'm currently working on another one, with a similar setting/universe.
Chapters (31)