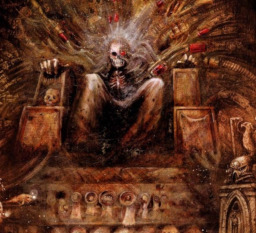 (This is a Displaced Story. If you hate them, please leave)
People don't know how agonizing it is being alone for a few thousand years, stuck in a chair the whole time. Let me tell you, it's not fun. Then, this teeny weeny 'Princess' shows up and acts like she's the boss. Oh, and Sparklebutt is there too.
So, how did this happen? It's was probably that angsty Merchant asshole. Should never have bought from him. News flash kids: when a creepy Merchant guy walks up to you with very desirable wares, walk the fuck away. It's a damn trap.
But the worst part of my endless torment? I'm a fucking corpse sitting on a golden throne, writhing in agony as I slowly decay into nothingness.
....fuck you, Merchant Asshole.
And Sparklebutt, JUST. FUCKING. STOP.
(If The Emperor Had a Text-to-Speech Device)
Chapters (23)