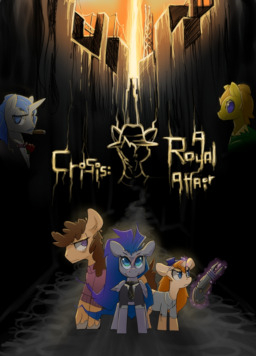 Source
In an alternate Equestria, the city of Hope's Point stands as a beacon of light and hope against the darkness and misery of the world around it, ruled over by the ever-watchful, keen-minded, and iron-hoofed Queen Blackburn.
But Blackburn wasn't always the queen of Hope's Point - she wasn't even its first ruler - and she wasn't always the hard-nosed mare with an eye for details. She was young once, too, just like everypony else, and just like them she had to make new friends, go to school, make mistakes, find love, and everything else that goes along with growing up, for better or worse, and that's not even counting her royal responsibilities.
Witness the rise of Blackburn, Princess of Hope's Point, as she becomes the mare - the queen - she was always meant to be, as well as the friends and enemies she makes along the way.
---
Takes place in the CRISIS-verse as a prequel to CRISIS: Equestria.
Many thanks to Devnator and BeeAre for their help in editing and as creative consultants. Cover art by Starlight Spark.
Chapters (18)