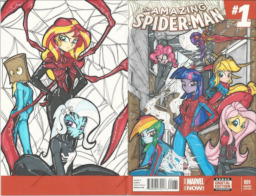 Source
Cover Art by ponygoddess.
---
Twilight Sparkle is a simple student from Equestria Elementary, mostly content with keeping to herself and focusing on her studies. But all that changes after a field trip to Belle Industries where she finds herself on the receiving end of a genetically-enhanced spider bite (due to the bumbling of a certain wall-eyed girl).
As the side-effects become more and more apparent, unknown to her several of the other spiders ended up getting free and have escaped into the city! Over time the victims of their bites start to surface, each one stepping up to defend their city.
But as time goes on, more superpowered individuals start to surface as well... and not everyone will use their new powers responsibly...
Chapters (3)