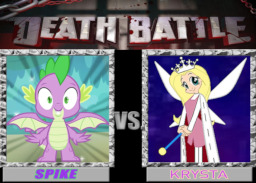 This story is a sequel to Death Battle: The Rainboom Wonderbolt vs The Ryming Swordsman!
---
Sometime after the first two battles against Starfleet, a much smaller adversary makes there a way to the land of Equestria... and ends up butting heads with a certain dragon.
This will be one of them more... unusual battles to say the least.
Equestria vs Starfleet! Round Three! IT'S TIME FOR A DEATH BATTLE!!!
Chapters (1)