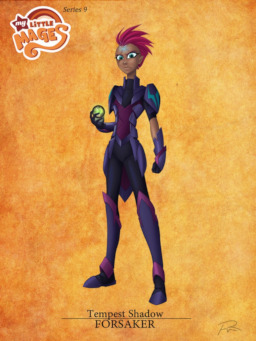 Source
This story is a sequel to My Little Mage: The Play of Shadows
---
Almost a month since saving the Pillars of Legend from Limbo and Stygian from The Nightstalker, and a week before the Summer Sun Celebration, Twilight has planned out her first major celebration, the first Festival of Friendship.
However, just as the party started it is crashed as Tempest Shadow, herald and right-hand woman of The Storm King, intends to aquire the four adult demigods.
Narrowly escaping, Twilight and her friends must find the queen of the Aa. and with her help save Mystica from the occuption of the Storm King's Armarda and stop what ever he has plans. However, Tempest will not suffer failure, especally her own and will hunt Twilight down to the ends of the world.
Can Twilight reach the queen of the Aa? and will she help?
Will Tempest catch her quarry?
What does the Storm King have planed?
A My Little Mages retelling of My Little Pony the Movie (2017)
cover art by Didj
Chapters (10)