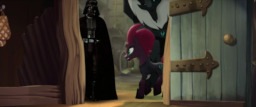 This story is a sequel to Vader's New Empire
---
Darth Vader and Tempest Shadow hunt for the Princess Twilight Sparkle and the rest of the Main Six in Klugetown. And it is up to Twilight to prevent herself and her friends from getting captured.
---
A very special thanks to EJLightning007arts for making the first story art image, and to Jehovaservant for proofreading and editing this story.
---
Note: This story series follows the story line of the movie, for the most part.
This Star Wars/MLP crossover is set during the MLP movie, as a "What If Darth Vader was in My Little Pony: The Movie". After success of "I Will Not Fail", people requested sequels, so I plan to make 5 sequels. This is the 2nd of the 5.
(My entry into Scribblefest 2018)
Chapters (1)