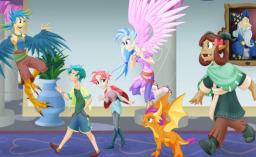 This story is a sequel to My Little Mages: Academia Amina
---
It has been several months since Twilight started her School of Friendship, seperate from the MEA and everything seems to be going well.
However magic seems to be vanishing across all of Mystica out of the blue. There is only one person that might know what's going on, Tirek.
As Twilight and her closest friends seek an answer, The School is trusted to... Cozy...
Something is definately a miss.
Can Twilight and her friends find out what is going with Mystican magic?
Where's Starlight?
And why is Neighsay in Twilight's office?
A My Little Mages retelling of School Raze
Chapters (7)