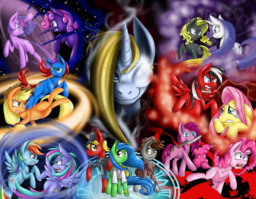 Source
This story is a sequel to CRISIS: A Royal Affair
---
A mysterious portal appears in the Everfree Forest one afternoon, and Twilight Sparkle and her friends are sent to investigate. The portal transports them to another Equestria, one full of evil and darkness, where they have to fight to survive on the long journey home. A pony named Tick Tock, a guardian of this new world from forces of chaotic magic, offers to find a way to take them home. They make other new friends along the way, but also new enemies, primarily six evil counterparts out for blood.
---
The central story of the CRISIS-verse. This story takes place during Season 3 of canon, before the Keep Calm and Flutter On episode.
Thanks to Devnator, BeeAre, and The Living Couch who assisted with editing and as creative consultants. Cover art by Starlight Spark.
Check out the TVTropes page, maybe give it some love.
Chapters (41)