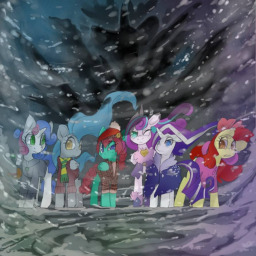 Source
This story is a sequel to CRISIS: Equestria
---
It's been twenty-one years since Twilight Sparkle and her friends visited the alternate world of Equestria-V, wherein their lives and the fate of the entire multiverse hung in the balance. Though things have changed at home since their return—including accepting their clones from that alternate world into their own—things have generally settled down, for the most part, and that adventure is now long behind them.
Except for Rarity, who left a piece of herself in that other world and still longs to go back, no matter how impossible that might seem. However, a spell gone awry gives her—as well as Apple Bloom and Flurry Heart—the opportunity to make things right, and to see the ramifications of things that have happened since Rarity was last in that other world.
---
Edited/co-authored by Devnator, who also served as a creative consultant. Cover art by Starlight Spark, as usual.
Chapters (26)