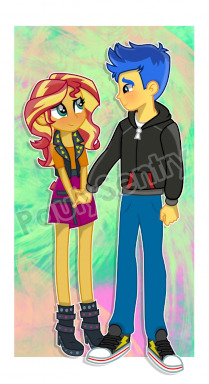 Source
The flame between Sunset Shimmer and Flash Sentry has long been snuffed out. What was once began as a blossoming romance eventually turned into an asset to prop Sunset above the rest at CHS, including Flash. It wasn't long before Flash finally broken off.
Ever since then, the two have intentionally avoided each other, hoping to keep old wounds closed. Even after Sunset's reformation, the two never fully mended their relationship, resulting in awkward exchanges and run ins. However, after the events of Camp Everfree, they agree to start over again as friends, finally putting their past behind them.
As their friendship grows, old feelings and attractions begin to reemerge. Flash recognizes these feelings and wants to try developing a relationship again. Sunset, however, refuses to face these desires, instead she believes in her fear that another relationship would only result in bring harm to Flash again.
---
This is the first book of a grand Flashset story that I've been wanting to do for a while.
Cover art by PaulySentry
Edited by Donnnnn, Scholarly-Cimmerian, and Needling Haystacks
I also want to thank Alphamon_Ouryuken, admin of the Flashimmer group, for helping me find this cover art.
Finally, I want to thank all you who are or about to begin reading. I hope you enjoy the story.
Chapters (19)