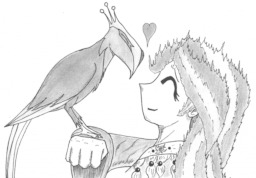 Source
The rite of the phoenix is one of the most celebrated moments among the sun-gazers of Solaria. For with the hatching of a new phoenix, comes the ascension of a new phoenix-born: a mortal chosen by the phoenix to be its new life partner and guardian. Only those with both strength and purity of their inner fire can draw the attention of a hatchling phoenix, so only the best of the best can ever hope to be chosen.
To one young orphan girl named Sunset Shimmer, she could only dream of witnessing the ascent of one of Celestia's chosen. As the day approaches, she learns that she will be able to, as she has been selected by the crown as one of the girls to serve at the event.
Little did she know that this would be the seminal event of her life, and change her fate forever.
---
Original story was entry into FanOfMostEverything's Imposing Sovereigns II contest. Entry type: Coronation - Other.
---
Cover art by me.
---
Featured Oct 12th, 2019.
---
Chapters (2)