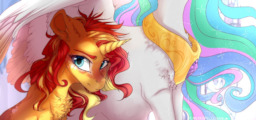 Source
Sunset Shimmer struggles with keeping a regular diary. She seems to have trouble with a lot of things related to life in Canterlot, but that can't be right. Canterlot was supposed to be the fairy tale life and dream come true for the aspiring archmage.
Perfection be damned, as long as Sunset doesn't fall short, that's what matters. She is the Faithful Student and the shining light of the castle. What she is not is a failure.
At least Princess Celestia will always be there for her.
Won't she?
---
Cover art by CastASpellLiana on Deviantart. Spiritual companion to Atelophobia, Bathophobia, and Autophobia. Reccommended by TCC56! Contribute to the TVTropes page!
Chapters (32)