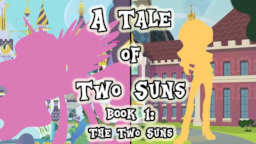 Source
After the Friendship Games, life at CHS has settled down. No more magical villains to face, or impending disasters. Sunset and the others can go back to living as normal teenage girls. Or as close to normal as a group of magically empowered girls and a former unicorn from another universe can anyway.
But when Sunset gets into trouble, someone she never expected comes to help her, and her life will never be the same ever again.
Disclaimer: I don't own My Little Pony Friendship is Magic or any of it's characters. I'm just a fan.
Cover art done by my very good friend PrettySoldierPetite. (EDIT 07/08/19: And now with new cover art!)
Proofread by Dragon of Shadows
Pre-read (post ch 12's publishing) by Setokaiva
FEATURE BOX 11/28/17!
EDIT: Added the MLP: FIM tag because of recent events, and I really should have put it in before this anyway.
EDIT 04/14/19: While the content of this story does not qualify for the "Dark" tag, I have been advised to give a warning that chapter 6 contains a scenario that may trigger some individuals. Tags: psychological abuse & gaslighting.
EDIT 10/16/19: Now with a TV Tropes page!
Side Story
Swimming Lessons
Chapters (15)