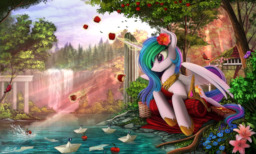 Source
According to an old law, Celestia and Luna must spend at least one day off from their usual duties. Celestia, caught off-guard initially, having forgotten of such a law, must find a way to occupy her time.
---
Coverart by Yakovlev-vad (not on Fimfiction). Title idea from here.
---
Part of my Hiatusbuster project. See here for more details.
Chapters (3)