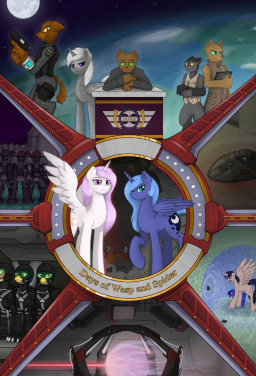 Source
SF (canon species only; no humans) Ponies were magically and genetically engineered to be the perfect servitor race. They are powerful, adaptable, intelligent and completely under the control of their creators. A laboratory accident frees one such pony from her mental chains, but how can one mare save herself and the rest of her kind if she doesn't even know she's a slave?
This is not the Equestria you know and these are not your little ponies... not yet, anyway.
Tags: Adventure, Diamond Dogs, Gryphons, NO HUMANS (did I mention that already?)
Other tags: historical, mind control, Clarke's 3rd Law, excessive use of high energy physics, before they were famous.
Detailed review by PaulAsaran.
Cover art by endrome , used with permission.
Russian translation (partial -- 'unofficially' completed in the comments)
A Soot-Covered World, book 1.
Chapters (33)