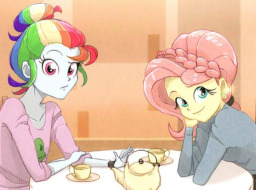 Source
Rainbow Dash is willing to make a lot of sacrifices for her oldest and best friend. Some of them are less a sacrifice than she lets on. But it's cool. Fluttershy's cool. As long as nobody else notices...
---
A little something that popped into my head and demanded to be written. Done with minimal editing. I was going to use it as an entry in the Writeoff's "I Prefer Not To" contest, but missed the deadline.
Cover art by ILACAVGBMJC. Used with permission.
Chapters (1)