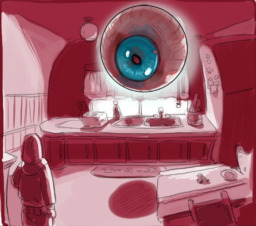 Twilight receives an urgent message from Sunset Shimmer, a vague cry for help against an unnamed threat. She races to the rescue without question or hesitation, and arrives to find a floating eyeball from beyond the bounds of corporeal reality taking up residence in her kitchen. Is it evil? Malicious? A threat to life as we know it?
...Maybe? It's creepy as heck, either way, and it's wreaking havoc on Sunset's social life, so it's gotta go.
---
Silver medalist in the Writeoff Association's December 2016 contest, written for the prompt "Has That Always Been There?" Inspired by this tweet. Cover art by illictic, used with permission.
Edited by DannyJ.
Chapters (7)